Turquoise lagoons, pristine beaches and biodiversity-rich rainforests await you as you travel from India to Mauritius. One of the top favourites for honeymoons and family vacations, Mauritius offers immersive experiences and a multi-ethnic culture to visitors from across the world.
Indians' Love for Mauritius
Most of Mauritius' present population can trace its lineage back to Indians. In the 19th century, imperial Britain had made Mauritius one of its overseas colonies, and they routinely brought Indians into the island.
While the ethnographic makeup of Mauritians includes Indian, African, Chinese, Dutch, French, British and other European influences, Indian tourists easily feel at home in this multicultural atmosphere. Even after the independence of Mauritius in 1968, many Indians have continued to travel there for work and even continued their stay on the island.
Politically, Mauritius and India have friendly relations, India being its largest trading partner. The association also extends to defence agreements. Owing to the large Indian-origin population of the country, Mauritius is sometimes referred to as 'mini India'.
Indians love Mauritius as a tourist destination because of shared cultural values, the prominence of Hinduism and Islam, similarity in cuisine and also the way of dressing. While a very small portion of Mauritians speak Indian languages, the wide acceptance of English makes it very easy for Indians to converse with the locals who otherwise generally speak French and Mauritian Creole.
The palm-fringed sandy beaches, crystal clear lagoons, volcanic mountains, lush subtropical forests and a coral-rich marine ecosystem also make Mauritius attractive to Indians and the world alike. Nature trails, waterfall hikes and Mauritius diving tours that bring the undersea world alive are other aspects that contribute to this affinity.
Where is Mauritius?
Hidden in the vast Indian Ocean, Mauritius is an island off the south-eastern coast of Africa. This island nation boasts of a subtropical climate, thanks to its position slightly below the equator. The country has its own time zone – Mauritius Time, denoted by MUT or UTC+4.
About 1,130 km from the bigger South East African island of Madagascar, Mauritius may appear small but is spread over a total area of 2,040 square kilometres. Almost dwarfed by the giant continent of Africa, Mauritius has preserved its indigenous heritage as well as cultures amalgamated over the years from countries that annexed it.
India to Mauritius Map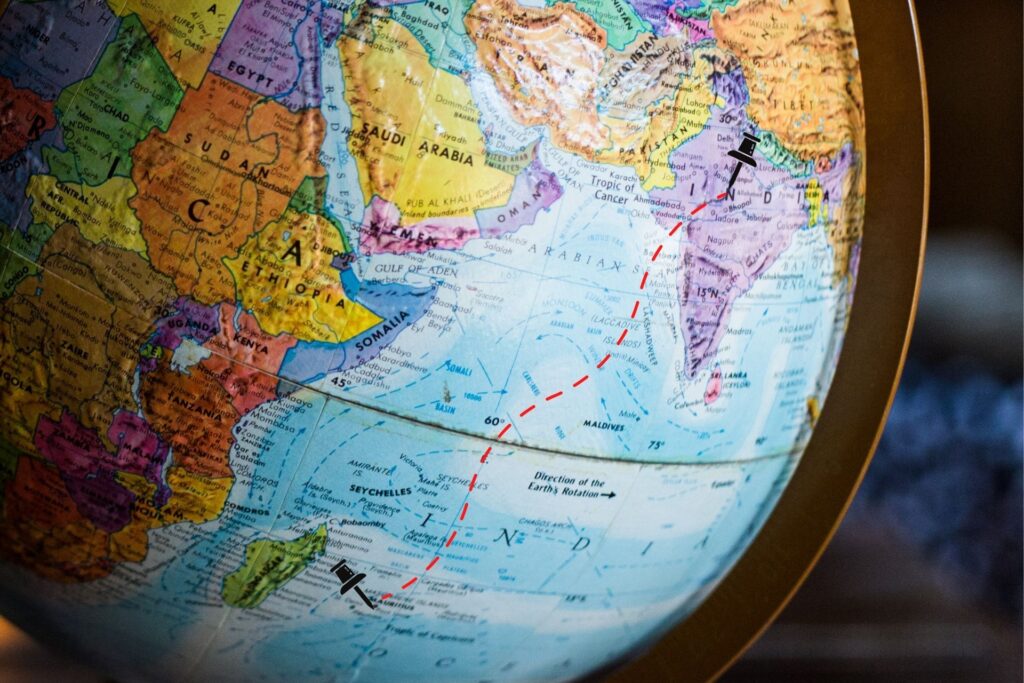 India and Mauritius are both located on the Indian Ocean. However, India is a part of Asia while Mauritius is in Africa. Only a few globes and world maps mark Mauritius as it is tiny in comparison to India. To travel from India to Mauritius, one must journey to the south west.
Apart from the island of Mauritius, the eponymous country also includes the nearby islands of Agaléga, Rodrigues and St. Brandon. Additionally, its ownership of the island of Tromelin and the Chagos Archipelago are disputed.
India to Mauritius Distance
India is approximately 5,828 km away from Mauritius. Thanks to the advent of flights, this distance can be traversed in a matter of a few hours only. Sailing takes a few days at the max. While the physical distance between the two countries runs into thousands of kilometres, their cultural distance is very small, thanks to shared religions, languages, delicacies and even heritage.
Which is Closer to India? Mauritius or Maldives?
It is hard to compare two nations that are so very different in their cultural values, dressing, cuisines, demographics and even natural endowments. Nevertheless, if you must know whether Mauritius is closer to India as compared to The Maldives, the facts will make the answer plain.
India to Maldives is under 2,000 km whereas India to Mauritius is a distance of almost 6,000 km. This makes The Maldives much closer to India. Even in terms of travel time, a direct flight from India to Mauritius takes about 6 hours while one can fly to The Maldives in 4 hours and 30 minutes.
Distance should not be a defining factor in where you should travel though. Mauritius makes up for its longer distance with a more diverse landscape, ranging from volcanic hills and subtropical forests to vegetation-rich plateaus and coral-covered lagoons.
How to Reach Mauritius from India?
As of now, the only way to travel from India to Mauritius is via flight. Cruise is a future possibility, but there are no cruises that currently operate between the two destinations. Also, the great expanse of ocean between the two countries makes it impossible for road trips.
India to Mauritius by Flight
India and Mauritius are well connected by flight. Both direct and indirect connections are available between the two nations. Taking the aerial route also lets you have a glimpse of the island from the top, especially when you grab a window seat!
Mauritius Airport
There are two airports in the Republic of Mauritius. The international airport is located on Mauritius Island itself, while the other airport is on Rodrigues Island. Previously known as Plaisance Int'l, the main airport in the village of Plaine Magnien is Sir Seewoosagur Ramgoolam International Airport.
Located in the district of Grand Port, this airport is 48 km away from Port Louis – the capital of Mauritius. The domestic airport in the outer island of Rodrigues is called Sir Gaëtan Duval Airport. Previously known as Plaine Corail Airport, this airport is located in Plaine Corail.
Flight Duration from India to Mauritius
The shortest flight from India to Mauritius International Airport is 6 hours. However, depending on the departing city, this duration can vary slightly. While there are a couple of direct flights, most other options include a layover or two. This takes the average travel duration from India to Mauritius to 15 hours.
Flight Operators from India to Mauritius
A handful of airlines fly from India to Mauritius Airport. Direct flights are operated by Air India and Air Mauritius. Other carriers include SpiceJet, EgyptAir, Saudia, Emirates, Air Seychelles, flyDubai and Kenya Airways. For indirect flights, expect layovers in Seychelles, Dubai, Nairobi, Cairo and Jeddah.
Departing Cities from India and Average Air Ticket Price
Quite a few cities in India have flight connections to Mauritius. You can easily find direct or connecting flights from Mumbai, New Delhi, Bangalore, Kolkata, Chennai and Pune. If you don't mind long layovers and circuitous connections, flying from Hyderabad, Kochi, Ahmedabad, Goa and Nagpur is also possible.
You will have to pay at least INR 20,000 for the cheapest India to Mauritius flight for economy class. Average flight rates easily range from INR 25,000 to INR 30,000 these days. As flight frequency improves, the rates are expected to come down.
India to Mauritius by Cruise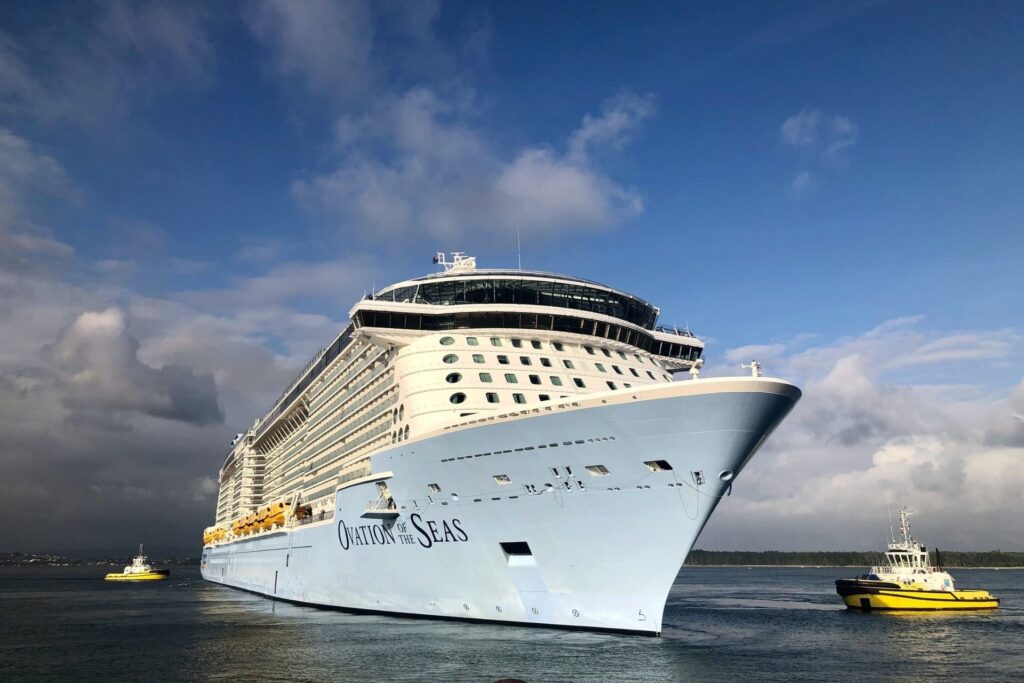 The sea route is a definite possibility for leisure travel between India and Mauritius since they are both in the Indian Ocean. However, there are no cruises presently scheduled from India to Mauritius. Ships routinely ply between the two countries for trade and industrial purposes though.
One option for those who like cruises is to book a catamaran cruise that will take you to the different islands within the Republic of Mauritius. Select from various packages that take you to the North Islands, St. Brandon Islands, Bénitiers Island for its coral reef, and around the coast of Mauritius, even to explore its many golf courses. You can also sign up for Mauritius diving tours on a catamaran.
Sea Route Distance and Time Taken
The sea route is the shortest when travelling from Chennai Port to Mauritius. The total distance from Chennai to Port Louis, the main port of Mauritius, is 3,079 nautical miles. A voyage can take about 12 days. If travelling from Mumbai Port, the distance is 3,175 nautical miles, requiring almost a couple of weeks.
Instead of doing the full cruise from India to Mauritius, if you book a cruise tour within Mauritius itself, you can choose from packages that take just one day or book a private catamaran trip for up to 10 days.
Cruise Fare
There are no official cruises from India to Mauritius, so rates are not available. However, for the local tours within the islands of the Republic of Mauritius, the cruise fares range from MUR (Mauritian rupee) 5,300 to MUR 75,000 per person, which converts to about INR 10,000 to INR 1,40,000 per head.
India to Mauritius by Road (Possibility)
India to Mauritius by road is almost unimaginable since the countries are divided by many seas in the Indian Ocean and are themselves located in separate continents. Even if one decides to drive all the way, the hassles of procuring multiple visas (for all the countries that one will have to drive through), getting special permit for border by road (especially for sensitive areas and countries that are not on friendly terms with each other), and ensuring one's safety in some of the dangerous parts of the route make it prohibitive.
In any case, should you want to fulfil your wild dream of driving from Asia to Africa and then take the sea route from mainland Africa to Mauritius, there are many countries to cross. This route can be impossible for an ordinary Indian passport holder, but if you have a diplomatic passport (maroon in colour) or official passport (while – for government officials), this adventurous road trip can be quite possible.
After exiting India, you will be crossing the Asian countries of Pakistan, Iran, Iraq, Jordan and Israel. Thereafter, you will enter Africa through Egypt and continue to cross Sudan, Ethiopia, Kenya, Tanzania and Mozambique. The sea route will have to be taken to the island nation of Madagascar before crossing its breadth on road and taking another ship to Mauritius, at long last!
Visiting Mauritius from various Indian Cities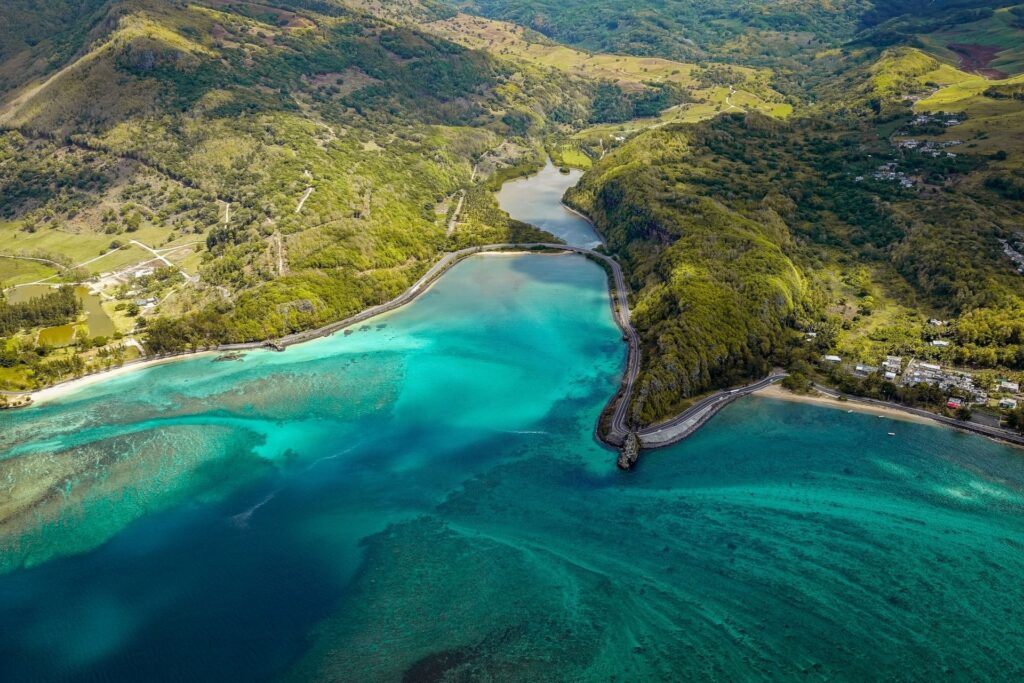 We will focus only on the flight route from various Indian cities to the island country of Mauritius since it is the only plausible mode of transportation. The sea route is not operational for tourists at the moment, and the land route is too far-fetched and fictitious to even think of.
Delhi to Mauritius
New Delhi, the capital of India, is approximately 5,841 km away from Mauritius. The shortest flight from Delhi to Mauritius is operated by Air India, the national carrier of India and Air Mauritius, the national carrier of Mauritius, taking 7 hours and 30 minutes. Both are non-stop flights.
The cheapest airfare for a one-way flight between Delhi and Mauritius is INR 22,000 for economy class. However, average fares can go over INR 30,000. Other airlines that ply on this route are Air Austral, SpiceJet, Air France, flydubai, Turkish Airlines, Etihad, Kenya Airways, Saudia and Emirates.
If taking flights that have layovers, the duration of the entire one-way journey will go above 20 hours on an average. Expect layovers in cities such as Istanbul, Mumbai, Réunion, Dubai, Nairobi, Abu Dhabi and Jeddah.
Mumbai to Mauritius
The aerial distance between Mumbai and Mauritius is 4,688 km. The shortest flight from Mumbai to Mauritius takes 6 hours. This direct flight is operated by Air India and Air Mauritius. The cheapest Mumbai to Port Louis flight costs INR 22,000 per economy seat. The average flight cost is INR 40,000 while the average duration to cover the distance between the two destinations is 15 hours including layovers.
Other airlines that connect Mumbai and Mauritius are Air Seychelles, Indigo, Emirates, SpiceJet, Turkish Airlines, flydubai, Kenya Airways, Saudi, EgyptAir and Etihad. For indirect flights between Mumbai and Port Louis, layovers will most likely be in Victoria, Dubai, Nairobi, Cairo, Jeddah, Istanbul and Abu Dhabi.
Bangalore to Mauritius
Bangalore and Mauritius are 4,302 km apart. There are no direct flights connecting the two places. The cheapest and also the shortest flight is operated by Indigo and Air India, with a layover in Chennai, the capital of the south Indian state of Tamil Nadu.
Bangalore to Mauritius flights start at INR 25,000 one-way for an economy seat while the average rates go over INR 30,000. The quickest one can fly from Bangalore to Port Louis is 15 hours and 30 minutes, including the stopover. On an average, it takes at least a full day to traverse the distance.
Other airlines that connect Bangalore and Mauritius are Air Seychelles, Emirates, Ethiopian and Kenya Airways. Layovers are usually in Delhi, Mumbai, Victoria, Addis Ababa, Dubai and Nairobi.
Chennai to Mauritius
Mauritius is 4,452 km away from Chennai with the shortest flight taking just 5 hours and 55 minutes. Direct flights are operated by Air Mauritius and Air India. The cheapest flight, however, is operated by Air Austral for INR 19,801, with a halt at St. Denis in Réunion.
The average cost of an air ticket from Chennai to Mauritius is INR 23,000 while the average journey time is 30 hours. Other airlines connecting Port Louis to Chennai are Emirates, Turkish Airlines, Indigo, Air Seychelles and Kenya Airways. Halts are generally in Mumbai, Delhi, Victoria (Seychelles), Nairobi, Istanbul and Dubai.
Kolkata to Mauritius
Mauritius and Kolkata, the capital of the Indian state of West Bengal, are 5,823 km away from each other. There are no direct flights from Kolkata to Mauritius but indirect connections are available. The shortest duration between the two destinations is 19 hours and 20 minutes while the average journey time is over 30 hours each way.
The cheapest Kolkata to Port Louis flight will cost INR 25,000 for a single journey in economy class while the average airfare is INR 36,000. Airlines connecting Kolkata and Mauritius are Air India, Indigo, AirAsia India, GoAir, Emirates, Air Seychelles, Vistara, Kenya Airways, Ethiopian, Air Mauritius, Etihad, Air France, Saudia and British Airways.
Stopovers can be in Mumbai, Seychelles, New Delhi, Dubai, Bangalore, Addis Ababa, Nairobi, Paris, London (both Heathrow and Gatwick airports), Abu Dhabi and Jeddah. Some routes involve more than one layover.
Hyderabad to Mauritius
Hyderabad, the capital of the state of Telangana, is about 5,309 km from Mauritius. There are no direct flights from Hyderabad to Mauritius but the cheapest connection will cost about INR 25,000 per person for the onward journey. While the average airfare between Hyderabad and Mauritius is INR 30,000, the average journey time is over 24 hours. The shortest flight route takes 18 hours and 20 minutes.
Airlines that service this route are Air India, Vistara, AirAsia India, Emirates, Air Arabia, Ethiopian, Air Seychelles, Etihad, Kenya Airways, Saudia and Air Mauritius. Expect halts in Abu Dhabi, Mumbai, Jeddah, Delhi, Riyadh, Bangalore, Nairobi, Addis Ababa, Victoria and Dubai.
Ahmedabad to Mauritius
Ahmedabad is 5,087 km away from the island nation of Mauritius but this route is not well serviced. There are neither direct flights, nor frequent indirect flights. The cheapest air ticket will cost INR 26,000 with at least 2 stops while the shortest route will take over 18 hours. The average journey duration from Ahmedabad to Mauritius is 30 hours while the average cost of a one-way flight in economy class is INR 53,000.
Airlines that ply between the two destinations are GoAir, flydubai, Air India, SpiceJet, Air Seychelles, Vistara, Kenya Airways, Emirates, Air Mauritius, Ethiopian, Etihad and Saudia. Stopovers are in Mumbai, Seychelles, New Delhi, Nairobi, Pune, Dubai, Abu Dhabi, Jeddah, Addis Ababa, Dammam, Medina and Riyadh.
Goa to Mauritius
Goa is 4,355 km away from Port Louis – the capital city of Mauritius. There are no flights, either direct or indirect from this beach state in India to Mauritius. However, if you don't mind an internal flight to Mumbai, you can have a handful of international connections to Port Louis.
The cheapest Goa to Mauritius flight via Mumbai will cost at least INR 30,000 per person for economy class. The average one-way airfare is quite steep, though, at INR 93,000, owing to the lack of frequent and relevant connections.
The shortest flight will take 22 hours and 45 minutes while most other flights take over 30 hours for the full journey from Goa to Port Louis. Airlines to fly with are Air India, Air Seychelles, Kenya Airways, Air France and Air Mauritius. Expect layovers in Mumbai, Paris, Nairobi and Seychelles.
Pune to Mauritius
Pune and Mauritius are 4,670 km apart. At the moment, there are no convenient connections from Pune to Mauritius. One will have to first fly to New Delhi before getting on a direct flight from the capital of India to Port Louis. The cheapest flight is INR 45,000 for an economy seat while rates easily cross INR 80,000 for the onward route.
Airlines connecting Pune and Port Louis are Air India and Air Mauritius. There is only one layover, in New Delhi. However, the long stopover leads to the total journey time crossing 21 hours at the very minimum. The average journey time is more than 30 hours.
Cochin to Mauritius
Mauritius is 3,938 km away from Cochin. The shortest flight takes over 24 hours from Cochin to Mauritius while on an average, the total journey takes more than a full day's time. The cheapest flight is available for INR 28,000 for an economy-class seat while the average airfare is over INR 30,000.
Airlines that fly from Kochi to Mauritius are Kenya Airways, SpiceJet, Air India, flydubai, Air Austral, Etihad, Air Mauritius, Saudia, Emirates, Ethiopian and Air Seychelles. Layovers are in Mumbai, Seychelles, New Delhi, Nairobi, Chennai, Réunion, Dubai, Abu Dhabi, Jeddah, Riyadh and Addis Ababa.
Nagpur to Mauritius
Nagpur is approximately 5,171 km away from Mauritius. There are no flights from Nagpur to Mauritius. The only way to fly is to take indirect connections to other Indian cities before jetting off on an international flight. The cheapest one-way economy flight between Nagpur and Mauritius will set you back by INR 60,000. The shortest route take almost 27 hours while most other routes are even longer.
Airlines that connect Nagpur to Port Louis are Air India, Saudia, Kenya Airways, Ethiopian, Air Seychelles and EgyptAir. Layovers are in New Delhi, Nairobi, Ahmedabad, Addis Ababa, Raipur, Seychelles, Mumbai, Cairo and Jeddah.
Surat to Mauritius
Surat is separated from Mauritius by about 4,903 kilometres. While there are no direct flights from Surat to Mauritius, both the destinations are well connected by suitable routes. The shortest flight is operated by Air Seychelles, taking 8 hours and 50 minutes, with a short halt in Victoria (Seychelles).
The average flight time from Surat to Port Louis is 15 hours. The cheapest flight costs INR 24,000 per head for economy class while a one-way air ticket costs INR 45,000 on an average. Other airlines that connect the two cities are Emirates, Kenya Airways, SpiceJet, flydubai, Vistara, EgyptAir, Etihad and Saudia.
Expect layovers in New Delhi, Jeddah, Hyderabad, Dubai, Cairo, Nairobi, Mumbai and Abu Dhabi. Alternatively, you can drive down to Mumbai in 5 and a half hours to catch the Mumbai to Mauritius direct flight operated by Air Mauritius which only takes 6 hours to reach Port Louis.
India & Mauritius' Currency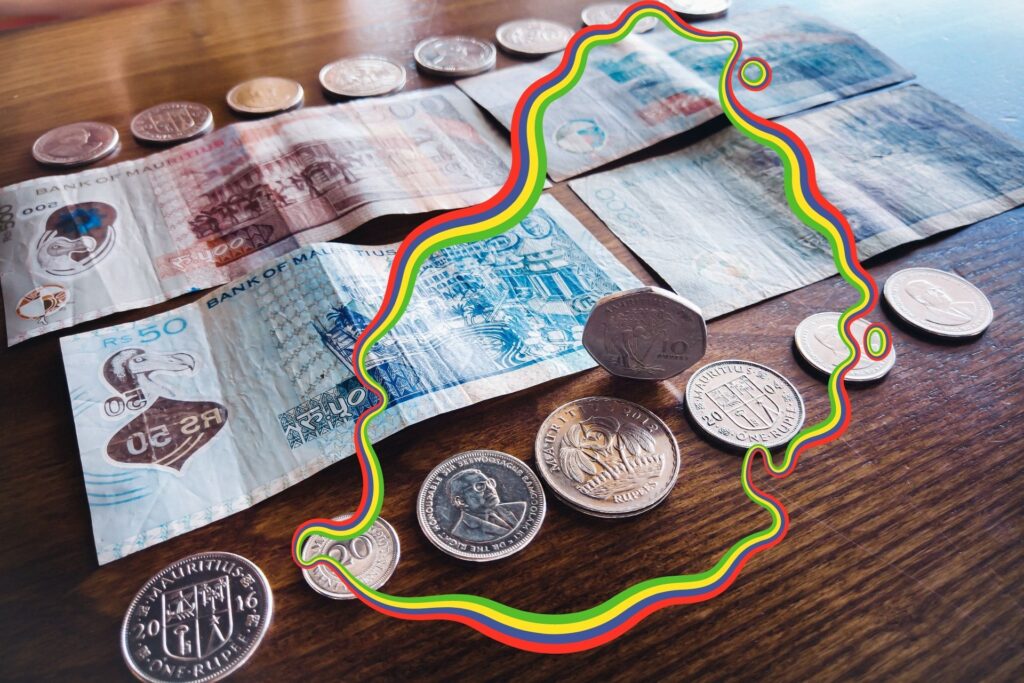 While both India and Mauritius use rupee as their official currency, these two rupees are different from each other. India uses the Indian rupee, denoted by INR, ₹ or Rs, while Mauritius uses the Mauritian rupee, denoted by MUR or Rs. The currency of this African island nation is also called Roupie mauricienne in French and Rupi morisien in Mauritian Creole.
Each Mauritian rupee is divided into 100 cents while each Indian rupee is divided into 100 paise. Mauritian cents are denoted by ¢ or MU¢. MUR is available in banknotes of denominations ₨ 25, ₨ 50, ₨ 100, ₨ 200, ₨ 500, ₨ 1000 and ₨ 2000. Coins come in the denominations of 5¢, 20¢, 50¢, ₨ 1, ₨ 5, ₨ 10 and ₨ 20.
Accepted Currencies
Apart from the Mauritian rupee, which is accepted across the country, some hotels in Mauritius occasionally accept payments in USD (United States dollar) or EUR (Euros). However, you will not find favourable rates of exchange if you pay in any foreign currency.
Since both the Mauritian rupee and the Indian rupee are not reserve currencies, you will not be able to convert INR into MUR once you reach Mauritius. Nor will you be able to buy MUR in advance from India.
You will have to carry all your cash in an international reserve currency such as USD, EUR or GBP (pounds). Once you land in Mauritius, you can change some of the foreign currency into MUR at a local money-changer or a bank. Airports generally don't provide favourable rates of exchange even if they have counters that are easily accessible.
At most Mauritian establishments, you will have to pay in the local currency, so ensure you have enough MUR in cash on you. Some places will also accept international credit or debit cards. If you have prepaid for your accommodation and most activities online, then there is no need to carry too much cash.
Average Conversion Rate
To help you budget for your Mauritius vacation, here are some useful currency exchange rates (as of April 2021):
1 MUR = 1.82 INR
1 USD = 73.38 INR
1 USD = 40.40 MUR
1 GBP = 101.48 INR
1 GBP = 55.87 MUR
1 EUR = 86.29 INR
1 EUR = 47.51 MUR
Is USD accepted in Mauritius?
Only a handful of resorts in Mauritius accept USD, even so at an unfavourable rate of exchange. It is best to change your USD into MUR from a trustworthy moneychanger and then pay in the local currency. If using your credit card, know in advance if they will be charging any currency conversion fees, and if yes, how much.
Mauritius Visa details for Indians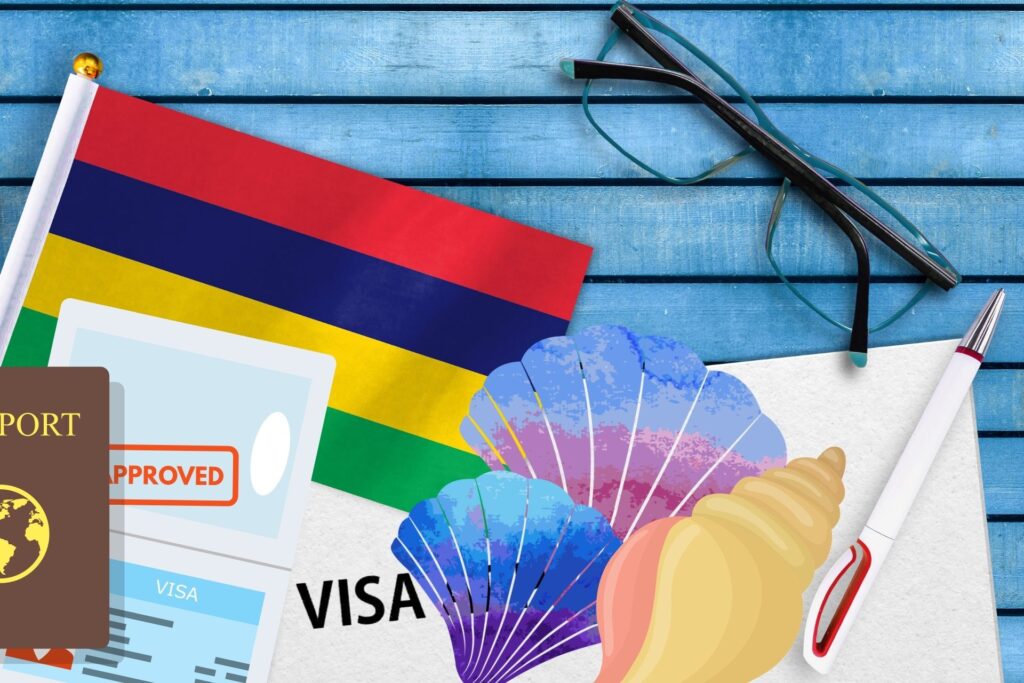 Indians need a visa to enter Mauritius. However, this is not required to fly into the country. There is no way to apply for a tourist visa in advance or even online. Also, pre-authorisation is not available. One must get the visa only after arriving into the country.
Is a Passport required for Indians?
Yes, a passport is required for Indians to enter Mauritius. The passport must be valid for a minimum of 6 months from the date that you enter the country.
Mauritius Visa Fee
The Mauritius visa is given free of cost to all those who meet the eligibility criteria. One does not need to pay any amount of money to procure the visa which allows one to stay in the country for a maximum of 60 days on a single-entry basis.
Mauritius Visa on Arrival
When you reach the immigration desk of Mauritius International Airport, you can apply for a single entry visa on arrival in case your period of stay exceeds 60 days. The visa on arrival for Mauritius is valid for 90 days. On its expiry, you can apply for an extension for a further period of 90 days. One cannot stay as a tourist in Mauritius for beyond 180 days.
To apply for Mauritius visa on arrival, one must fill up the visa form, carry two passport-sized photos that were recently clicked, have proof of confirmed accommodation in Mauritius for the entire period of your vacation, and have your return tickets or onward tickets to a different country booked.
Additionally, you will have to furnish proof of sufficient funds for your holiday. The amount should be USD 50 to USD 100 per person for each day of your stay in Mauritius. You might have to carry bank statements of the past 3 months also. Visa for Mauritius on arrival is also free of cost, but it takes 5 working days to be processed, so apply for your visa extension reapplication in time.
Communication in Mauritius
The Republic of Mauritius has 3 telecom companies – My.t (previously Orange), Emtel and MTML (previously Chili). On the main island of Mauritius, 2G, 3G and 4G connectivity is offered by all the 3 service providers. However, on the outer island of Agaléga, only My.t and on the island of Rodrigues, only Emtel provides 4G network.
You can buy a local SIM card at the airport itself, rather than waiting to exit the airport and buying one at a convenience store since the SIM activation process is smoother at the airport kiosks. Emtel SIM cards are activated in just an hour while other SIM cards can take up to 3 days. So, if your trip is only for a short duration, pick Emtel over other telecom providers.
You will only need to furnish your passport and ensure your phone is unlocked for the SIM to work. A local Mauritian SIM will cost at least MUR 100 with MUR 87 worth of calling credit and 300 MB data for a week.
For the widest coverage, My.t works best while Emtel is preferable if your data usage is high. In case you decide to go ahead with international roaming on your existing Indian number, you will find free WiFi at most hotels.
International SIM Cards from Indian Airports
Before you even get on the flight to Mauritius, if you wish to pick up a prepaid SIM card from India itself, you can buy a Matrix SIM from their kiosks at the international terminals of most Indian airports.
Matrix offers a postpaid permanent SIM for MUR 999 which can also be delivered at your doorstep. You will get 100 minutes of free calls to India and Mauritius each, apart from 500 MB of free data. You can also get a top up data pack if your internet usage goes beyond 500 MB.
Airtel Call Rates from Mauritius to India
If you have an Airtel number, you can activate the IR pack to get preferential rates on calls and data. Select from various packs that start from INR 649 for one day to INR 3,997 for 30 days. You can get benefits such as up to 5 GB of free data, unlimited incoming calls, 500 minutes of free local and India outgoing calls and 100 free SMSs. Benefits vary as per the pack chosen.
India to Mauritius Phone Code
The international phone code for Mauritius is +230. This must be prefixed to any number that you dial. Cell Phone numbers in the country are 8 digits in length, with the first digit being 5 always. For landline numbers, there are 7 digits in total, with the first digit being 2 for north, 4 for central and 6 for south.
Availability of Indian Cuisine in Mauritius
Indian cuisine is readily available in Mauritius, as are Indian restaurants. The abundance of citizens with an Indian heritage, even if partial, and the rise of Indian immigrants in Mauritius has ensured the popularity of Indian food in the country.
Even some of the local Mauritian dishes such as biryani, fish curry, roti, chutney and puri are inspired by Indian styles of cooking. If you are curious to try local food, Mauritian cuisine has influences not only from Indian but also African, French, other European and Chinese styles.
Try the French-influenced meat preparations which are braised in red wine, bouillon and rougaille with tuna salad. For Sino-Mauritian foods, don't miss bol renversé (upside down bowl) or magic bowl which is a wholesome meal of rice, chop suey made with Chinese vegetables and seafood, with a poached egg on top.
Vegetarians will find plenty of dishes at Indian restaurants while also being able to choose some items from Mauritian cuisine. Tofu boulettes (dumplings), dholl puri, gateau dhal (chilli cakes) and sept cari (7 curries – a full meal served on a banana leaf) are some local vegetarian specialities that you will love.
Respect to Mauritius' Culture & Sentiments
While the nation is multicultural at heart, Hinduism has a deep influence on Mauritius' history & culture. The tenets of this religion are followed even to the point of abstaining from beef and other cow products such as leather sometimes. Also, Islamic laws are followed which ban the consumption of pork.
What to Do and What Not To
Common etiquette in Mauritius:
Leave your footwear outside when visiting temples or mosques. Additionally, one should dress conservatively, with their legs and shoulders covered, even when visiting churches. See-through fabrics are also frowned upon.
Mauritians are mainly Hindus, Christians and Muslims, apart from other minority groups. To avoid offending your tour guide or host, do not insist on ordering beef or pork.
Do not smoke in public places. Also, alcoholic drinks should only be consumed inside resorts, restaurants or bars. Drinking in public is not allowed.
Topless bathing is banned in the public beaches of Mauritius. You should book a private villa with your own patch of private beach or a pool to go topless.
Remember to greet the hotel staff, cab drivers and anyone who assists you, as social etiquette is almost a norm. French greetings are widely understood, but English will do just fine if you don't speak French.
If not using cutlery, use only your right hand to eat, especially when trying Indian food.
Dress Code
It is recommended to dress modestly in Mauritius, whether you are at the beach or visiting a religious place of worship. The subtropical weather is very pleasant, and allows you to wear more than just summer clothes such as shorts, skirts, dresses and light, cotton tees and blouses. Accessorize with scarves and some layering.
If you will go hiking in Mauritius, don't forget to wear trek pants with sweat-wicking shirts that have a collar to protect you from sunburns. Revealing swimwear is better worn at private resorts and the swimming pools of hotels, not at the public beaches.
What to Carry
The best time to visit Mauritius is between May and December. Mauritius' weather is not only sunny and dry but also cool at this time, making it ideal for sightseeing, chilling at the beach or going on a hike. Carry a mild sunscreen lotion to protect your skin while you are out.
Comfortable walking shoes that have a grip good enough for basic treks will work well for both mountain hikes and city sightseeing. When travelling in the wet season, carry a raincoat or an umbrella, so you can explore and not have to be stuck at your hotel.
Make sure you have a good mix of cotton (for the outdoors) and lycra (for swimming) in your bag. A pair of flip flops will be great for both lounging at your resort and strolling at the beach. Bring a cap along for the hikes, and a large hat for the beach.
Things to Note if Travelling with Kids
Mauritius tour packages from India are great for those travelling with their children. The country is very safe for kids. Here is more help:
Most Mauritius resorts have a shallow baby pool for your little ones to frolic in while you take a swim in the main pool with your spouse.
Hotels usually have a dedicated space for toddlers to enjoy where the staff are well trained to babysit. Leave your children in the care of these professionals while you go clubbing or for a relaxing spa session.
Mauritius has child-safe water sports activities which can be enjoyed by both the adults and the kids. Take your babies on a submarine ride, a glass-bottom boat tour or snorkelling in a shallow lagoon.
Sunscreen should always be reapplied after every few hours when you are with your children at the beach for long. Also remember to keep them hydrated with juices or coconut water.
Activities & Things to Do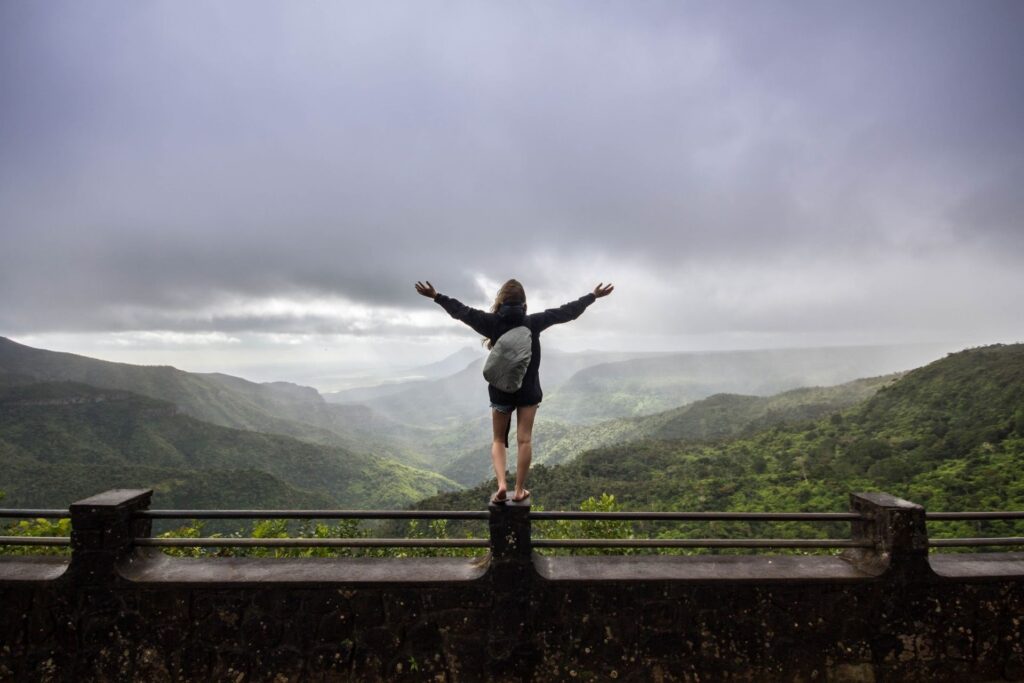 A well rounded trip will have a good mix of adventurous and relaxing things on the itinerary. If you are on a long holiday, choose from multiple activities to do in Mauritius:
National Park Safaris
Mauritius has no lack of nature reserves and protected forests, with Black River Gorges National Park at its helm. Safaris are not restricted to wooded environments. Even amusement parks such as Casela World of Adventures and La Vanille Nature Park offer interactive safaris that let you watch white tigers, crocodiles and giant tortoises.
See the Waterfalls
Mauritius is blessed with many breathtaking waterfalls and visitors must see at least a few of them. Tamarind Falls is a gorgeous set of 7 cascading waterfalls called 'Sept Cascades', excellent for canyoning, while Exil Waterfalls hidden in the Combo Forest is great for rappelling.
Diving
There are plenty of water sports to indulge in while vacationing on this island. Mauritius diving tours are more popular in November and May when the chances of spotting marine life increase manifold. Home to many dive sites, the undersea world here has abundant reefs, vibrant corals and fishes in an array of patterns. Coin de Mire and Trou-aux-Biches are popular dive sites for their visibility, marine life forms and wrecks.
Visit the Beaches
How can one ignore the beaches when in a subtropical island paradise like Mauritius! There is a beach for every type of activity that you might be interested in. Go to Flic En Flac for water sports, Le Morne for golfing, Tamarin for dolphin spotting and Grand Baie for fishing.
Wine & Rum Tasting
While one often hears of wine tours, Mauritius goes a step further with its rum tours. Sip on litchi wine at Takamaka Winery or get to know some of the delicious rums at Rhumerie de Chamarel. You can even order lunch at Château de Labourdonnais while sampling their rums and cocktails.
Catamaran Sailing
Catamaran tours are very flexible when it comes to how long you can sail. Choose packages that let you hop from one island to another and explore more of Mauritius than you could have without this option of cruising. Admire the indigenous flora and fauna in the daytime and relish the feeling of spending the night at sea.
Helicopter Rides
While helicopter tours are not very pocket-friendly, they definitely offer you a perspective that no ordinary luxurious experience can. Get a bird's eye view of Mauritius' sugarcane fields, coralline lagoons, and rock formations. Some seaplane tours even let you see the country's unique underwater waterfall.
One can also club the helicopter ride with a skydive for an extra fee. However, you will have to meet the fitness criteria and undergo a basic training, even for tandem skydiving. This adrenaline-pumping activity will be even more surreal with Mauritius' jaw-dropping coastline and sublime beauty to admire from the top!
What to do in Mauritius for Honeymoon
Mauritius honeymoon packages from India can only give you choices, but you will still have to decide what activities you want to do when on your honeymoon. A romantic sunset cruise in a catamaran, bathing with your spouse in Chamarel Waterfall's natural pool and kayaking as a couple are just the beginning. Options galore for honeymooners!
What to do in Mauritius with Family
Quite a few Mauritius day tours are designed to entertain the entire family, regardless of the age of the family members. Watch a sega dance performance, visit a tea plantation and even sip on some aromatic tea, or stroll through a botanical garden. These activities are well paced to keep your toddlers entertained while the elderly can enjoy without stressing themselves.
What to do in Mauritius on a Budget
It may seem that Mauritius is all about expensive resorts and fancy restaurants. However, guest houses in Mauritius offer the budget traveller a sweet surprise. These affordable options for accommodation sometimes also have a swimming pool and a restaurant with reasonable pricing. Local buses will get you around without the hefty sum charged by taxis. Hiking, sitting at the beach and many other activities are essentially free in Mauritius.
What to do in Mauritius for Non Swimmers
Just because Mauritius is surrounded by the Indian Ocean doesn't mean you cannot enjoy anything if you can't swim. Go undersea walking, jet skiing, trek up a dormant volcano or just stroll through the markets looking for mementos to take back home. Even snorkelling can be done if you are not a swimmer. Just follow the instructions of your guide.
Travelling all the way from India to Mauritius will be well worth the time when you discover what a wonderful place this East African island is. Find out first hand why the world loves to vacation here. Book your holiday soon to get the best deals.